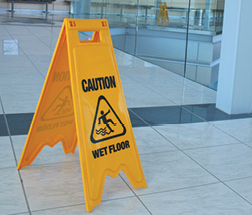 Did you know that slip-and-fall accidents are the leading cause of injuries in lawsuits against property owners? These accidents can be painful for all involved. The Department of Justice estimates that each year about $4 billion are awarded to compensate injury victims in these premise liability cases. And in some cases, punitive damages are awarded on top of actual damages. These facts underscore the importance of learning all you can to prevent these accidents.
One way to help reduce slips and falls is to use "wet floor" signs properly. You might think this is simple, but Russell Kendzior, founder of the National Floor Safety Institute (NFSI) and secretary of the American National Standards Institute (ANSI) B101 Committee (developers of safety standards intended to provide preventative measures in regards to slips, trips, and falls), says that "Signs are the most misused safety product out there."
In many cases, "wet floor" signs are left out too long, even after the area has dried, so people learn to ignore them. In order to maximize the effectiveness of these signs:
The "wet floor" sign should be:
Placed right on top of the wet area
Stable so it won't tip over
At least 28 to 39 inches tall
Visible from 360 degrees
Yellow with black letters
Clearly marked with "Caution: Wet Floor"
Removed immediately after the area is dried
In some situations a barricade is a better solution—for instance, to block off larger areas or when floor care will take a long period of time.
Staying up to date with the latest standards for floor safety is another way you can help prevent slip-and-fall accidents. The NFSI is an ANSI Accredited Standard Developer and the federal government requires that businesses conform to ANSI standards. For more details on the ANSI/NFSI standards, click here.
Sources
Daninhirsch, Hilary. "Signage To Help Prevent Slips And Falls".
CleanLink. N.p., 2016. Web. 5 Jan. 2016.